Monday, December 20, 2004
www.wackypackages.org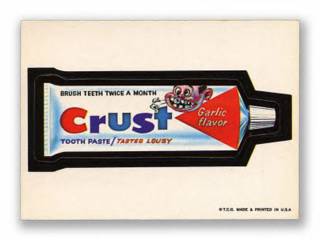 Posted by

MackMcCoy
at 12:32 AM
No comments:


Playlist for Lost & Found, 12/13/04
special guest (sets 3-5) Peter Gunn, of Crooklyn DJ lore and Monday Night Hockey cameos...
title/artist/format/label/year
Set One: Keep On Movin'
Intro: Loose Lip Sync Ship/The Hogs/LP/1966 (Pebbles V.3)
1. Modern World/Modern Lovers/LP/Beserkley-Rhino/1972-198?
2. She's a Mover/Big Star/LP/Ardent/1974
3. Crumbs Off the Table/Glass House/45/Invictus/1969
4. I Can't Sit andWait ('til Johnny Comes Marching Home)/100 Proof Aged In Soul/LP/Hot Wax/1970
* Ghetto Freaks Spot, "Every New White Convert Wore an Afro!"
5. Whole Lotta Love/King Curtis/LP/Atco-Warner/1970-2001
6. Funk To the Folks/Soul Searchers/LP/Sussex/1974
7. I'm Your Christmas Friend, Don't Be Hungry/James Brown/LP/King/1969
BED: Countdown to Soul/The Explorers/LP/Pure/19??-2001
Set Two: All Shades of Blues
1. Who's Been Talkin'/Howlin' Wolf/LP/Chess/1971
2. You Could Have Had Me Baby/Sugarcane Harris/LP/Epic/1970
3. No More Tears/Loading Zone/LP/RCA/1968
* Tom Laughlin & Bert Freed, "Billy Jack"
4. Trouble/Music Machine/LP/Original Sound/1966
5. Both Ends Burning/Roxy Music/45/Atco/1975
BED: Mango Meat (Instro)/Mandrill/12"/Polydor-Urban/1973-2003
Set Three: Swappin' Spit and Power Chords

1. Saturday Night/Bobby Fuller Four/LP/Del-Fi-Rhino/1963-1982 mf
2. Don't Tread On Me/Kit & the Outlaws/45/Phillips/1966 pg
3. Back Against the Wall/Ohio Express/LP/Buddah/1969 mf
4. I Can See But You Don't Know/The Equals/LP/President/1970-198? pg
5. Busted Feet/Love/LP/RSO/1974 mf
6. Walkin' the Dog/Aerosmith/LP/Columbia/1973 pg
BED: Monkey Farm ("Gunn" OST)/Henry Mancini/LP/1967 mf
Set Four: This Gunn for Hire
1. Such a Shame/Kinks/45/Reprise/1965 pg
2. Bang Bang/Petula Clark/LP/WarnerBrothers/1966 pg
3. I'll Bet You/Theresa Lindsey/LP/Golden World (Boot Comp)/1966 pg
4. Les gen sont tous/Jacques du Tranc/LP/Vogue/196? pg
5. Toute all-dress/Boule Noire/45/Revolution/196? pg
6. Tango Whiskeyman/Can/LP/Liberty/1970 pg
BED: Night on Bald Mountain/Bob James/LP/1975 mf
Set Five: Showdown: 45's at High Noon!

1. Never Get Enough/Bobby Byrd/45/Brownstone/1972 pg
2. Super Good/Myra Barnes/45/King/1969 mf
3. Susan/The Mauroks/Dee-lite/1967? pg
4. Switch It On/Cliff Nobles & Co./45/Phil-La of Soul/1967 mf
5. 1200 Miles/Flaming Ember/45/Hot Wax/1969 pg
6. I'm Your Santa, Baby/Rufus Thomas/45/Stax/197? mf
7. Can't Work No Longer/Impressions/45 (COUGH!!)/ABC/1964 pg
8. Let Me Get Close To You/Jerry Washington/45/Excello/1974 mf
BED: Ironsides/Quincy Jones/LP/ABC/1971 pg
...thanks again to Pete for coming down, he actually has an MP3 available for download of the entire show up on his website,
www.axischemicals.com
!!!
See y'all after Christmas....
Posted by

MackMcCoy
at 12:19 AM
No comments:


Monday, December 06, 2004
Thursday, December 02, 2004
title/artist/format/label/year

Set One: Diamond In the Back/One Lonely Mickey Fickey

Intro: He Got Game (instrumental)/Public Enemy w/Stephen Stills/12"/Def Jam/1998
1. Love the One You're With/Isley Brothers/LP/T-Neck/1971
2. Be Thankful For What You Got/William DeVaughn/45/Roxbury/1974
3. Champ/The Mohawks/LP/Pama/1967
*Richard Pryor, "Why do you guys hold your things?"
4. Born To Be Wild/Wilson Pickett/45/Atlantic/1969
5. Them Changes/Big Joe Hamilton and Doris Allen/LP/Minaret-Charly/1970-1982
6. Are You Man Enough/Four Tops/45/ABC/1973
7. The Rap/Millie Jackson/45/Spring/1974
BED: Impressions Of/Dennis Coffey/LP/Sussex/1970

Set Two: At Least I Got My Jelly Roll

1. Let's Spend the Night Together/Muddy Waters/LP/Cadet Concept/1968
2. Ride On Baby/Rolling Stones/LP/London/1967
3. I'm Your Witch Doctor/Chants R&B/CD/1966/Action-Rhino
4. I Got Mine/Small Faces/LP/Decca-Pride/1965-1972
5.He Ain't Give You None/Van Morrison/LP/Bang/1967
BED: I Want You/Gary Burton/LP/RCA/1967

Set Three: It Smacks You Sooner...But Cleaner...(1963 Version)

1. What Kind Of Fool/The Tams/45/ABC/1963
2. Just Let Me Know/Temptations/LP/Tamla/1963
3. You're No Good/Betty Everett/LP/Vee Jay/1963
4. Baby, Lot's of Luck/Valentinos/CD/SAR-Abkco/1963-1994
5. Stay In My Corner/The Dells/LP/Vee Jay/1965
BED: Greazee pts 1 & 2/Billy Preston/CD/SAR-Abkco/1963-1994

Set Four: More Power To You (and me)

1. Unknown("Gloria")/Unknown/CD ("Cambodian Rocks")/196?-199?
2. 8-Teen/? and the Mysterians/45/Cameo/1966
3. I Don't Recall/Trolls/CD/Warrior/1966
*Dick Powell, "Murder My Sweet"
4. Possession/Iron Butterfly/LP/Atco/1967
BED: Trippin'/Young Holt Unlimited/LP/Cotillion/1970

Set Five: Fighting Back for the Waltzing Mice

1. Chains of Love/J.J.Barnes/LP/Groovesville/1967
2. You Can't Keep a Good Man Down/James & Bobby Purify/45/Bell/1967
3. Look at Mary Wonder/Little Carl Carlton/LP/Backbeat-Charly/1969-1989
4. Glad I Knew Better/Howard Tate/45/Verve/1967
*Dick Powell, "Murder, My Sweet"
5. That's How Strong My Love Is/Candi Staton/LP/Fame/1970
BED: It's a Man's Man's Mans's World/Fabulous Counts/LP/Cotillion/1969

Set Six: By Hook or By Crook...We Will.

1. Thigh Spy/Persuaders/45/Atco/1971
*The Prisoner "Highlight Reel"
2. Secret Agents/Olympics/45/Mirwood/1966
3. Agent 00 Soul/Edwin Starr/45/Ric Tic/1965
*Robert Donat & Wylie Watson (Mr.Memory!), "The 39 Steps"
4. Thunderball/Tom Jones/45/Decca/1965
5. Sock It To 'Em, J.B./Rex Garvin and His Mighty Cravers/45/Like/196?
BED: From Russia With Love/Village Stompers/45/Epic/1964

...the cover of "Them Changes" is everything I want for this show...in one...a heavy, funky southern soul cover of a heavy, funky psychedelic rock song...complete with "ain't it funky?" breaks and acidic guitar solo...

Posted by

MackMcCoy
at 7:34 PM
1 comment:


Haves and Wants
Posted by

MackMcCoy
at 4:53 PM
No comments: