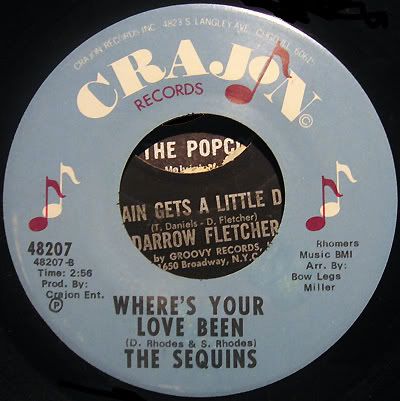 Cutting In


Well, no, of course nobody cuts in on me. That's just how it is. If I want something I grab it and you should be the same way, if you want to get anywhere. So throw caution to the wind and click on that Five Satins 45 down there - and you'll see you really can count on me, at least to bring you all that good-time music listed just below. Go on, take a poke at me. Go ahead - I won't hit back, I swear.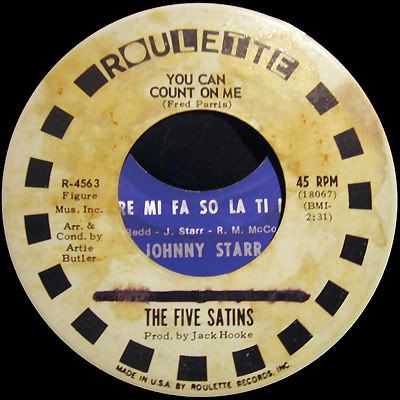 Click on Image Above to Listen to the Show!



Playlist for Lost & Found, 12/29/08

title/artist/format/label/year

Set One: just a dollar at the door


Intro: Sock It To Me pt.1/The Deacons/45/Shama/1968
1. Right Track/Billy Butler/LP/Okeh/1966
2. The Pain gets a Little Deeper/Darrow Fletcher/45/Groovy/1966
3. Doin' the Popcorn/Kim Melvin/45/Hi/1969
4. JB's Latin/Spitting Image/45/Masai/1969
5. A Love Problem/Eldridge Holmes/45/Decca/1967
6. Where's Your Love Been/The Sequins/45/Crajon/1971
7. Do Re Mi Fa So La Ti Do/Johnny Starr/45/Mala/1968
8. My Kind of Jungle/Bobby Rio/LP/Vogue(Fr)-Joda(Brz)/1969-1973
9. Crying All Alone/The Avengers/45/Mr. Genius/1967?
10.All I Want Is You/Shadden & the King Lears/45/Arbet/1966
11.Send Your Mind/Van Morrison/LP/Bang/1967
12.Let's Do Wrong/The Bougalieu/45/Roulette/1967
13.Outside Chance/Sounds Like Us/45/Fontana/1966?
14.She Came Like the Rain/The Phaetons/45/Warner Bros/1967
15.And When It's Over/Aesop's Fables/LP/Cadet Concept/1969
BED: Black Talk/Charles Earland/LP/Prestige/1971


Set Two: a thousand more 'fore I'm through
1. I Need a Friend/Jeff Monn/LP/Vanguard/1968
2. In Silence/Tim Hollier/LP/United Artists/1968
3. Sister Morphine/Ellen Warshaw/LP/Vanguard/1973
4. For Lovin' Me/The Fleetwoods/LP/Dolton/1966?
5. Blue Moon/Elvis Presley/CD/Sun/1954
BED: I Want You/Gary Burton/LP/Rca/1967
Set Three: wouldn't quit for a million bucks
1. Soldiers of Love/Arthur Alexander/45/Dot/1962
2. New Girl/Accents/45/M-Pac!/1964
3. You Can Count On Me/Five Satins/45/Roulette/1964
4. He Was Really Saying Something/Velvelettes/45/VIP/1964
5. A Quiet Place/Garnet Mimms/LP/United Artists/1963
6. A Whole Lots(sic) of Fun/Tommy Tucker/45/Checker/1968
BED: Mid Evil Dance/Scott Bradford/LP/Probe/1969



Set Four: sweep the shadows from your awning

1. Slip Inside This House/13th Floor Elevators/LP/International Artists/1967
2. Fortune Teller/Hard Times/LP/World Pacific/1968
3. Cully/Judas Jump/LP/Pride/1969
BED: Eddie Senay/LP/Sussex/1972



Guest Stars: Lawrence Tierney, Esther Howard, Elisha Cook Jr., Claire Trevor, Eli Wallach, Isabel Jewell, Tony Barrett, Caroll Baker, Karl Malden, Adele Jergens