They Live By Night
Down these mean streams a man must go.
Who can you really trust?
Just relax, listen to the soothing music, and don't mind that pin prick. No, the needles here aren't hypodermic - just hi-fidelity, and we ask you to trip with us through the haze of June as we apply them to the wax. We'll explore urban bohemian funk, the birth of metal, see what 1964 had to offer besides Beatlemania, and many other sides of the reflective gem of this golden era.
Don't stare too closely at the center, though -
...and don't forget to feed the cat.
If your trip begins to turn strange, your guide is waiting below to set you straight. Close your eyes. We are here to help you.
Click on Image Above to Listen to the Show!



Playlist for Lost & Found, 06/12/06

title/artist/format/label/year

Set One: what I need a cat for?


Intro: Give the Women What They Want/Dave "Baby" Cortez/LP/T-Neck/1970
1. This is the Beginning/Leon's Creation/45/Studio 10/1970
2. Purple Haze/Johnny Jones & the King Casuals/45/Brunswick/1968
3. Down in the Village/Curtis Knight/LP/Paramount/1970
4. Boogaloo Tramp/A.C. Reed/45/Nike/1968
5. Solitary Woman/Della Reese/45/ABC/1966
6. Love, I Can't Seem To Find It/Larry Williams/45/Venture/1968
7. I Think I've Suffered Enough/Don "Sugarcane" Harris/LP/MPS/1974
8. If She Kiss You Once - Will She Kiss You Again?
9. Blue Ice/The Litter/LP/Probe/1969
10.Something's Happening/Last Friday's Fire/45/LHI/1969
11.Son of Fantasy/The Hook/LP/UNI/1968
12.Hansel & Gretel/Circus Maximus/LP/Vanguard/1968
13.You are the One For Me/Charles Wright/LP/ABC/1973
BED: /Monty Alexander/LP/Pablo/197


Set Two: waiting at the station
1. Learning the Game/Buddy Holly/LP/MCA/1959
2. Love Minus Zero-No Limit/Bob Dylan/LP/Columbia/1965
3. Gonna Leave You Alone/Merry-Go-Round/LP/A&M/1967
4. I (Who Have Nothing)/Lil' Ray/LP/Rhino/1964
5. It's Over/Roy Orbison/45/Monument/1964
6. I've Got a Feelin'/Billy Preston/LP/Apple/1970
7. You Don't Care/Arthur Alexander/LP/Dot-Ace/1964-1982
8. Don't Do It No More/Charlie & Inez Foxx/LP/Symbol/1964
9. I'm Gonna Fly/Lee Hazlewood/LP/Reprise/1965
BED: Chifti Sands/Buddy Sarkissian & His Mecca Four/LP/Cameo/1963
Set Three: start pressing buttons
1. You're Gonna Miss Me/The Zoo/LP/PKC/1967
2. No Blood in Bone/Terry Jacks/LP/(unreleased)-Neptoon/1968-1982
3. Hide & Seek/Feminine Complex/LP/Athena/1969
4. In My Mind Lives a Forest/Rainy Daze/LP/Uni/1967
5. There Will Never Be Another Day/Pretty Things/LP/Fontana/1967
BED: Darkest Light/Lafayette Afro Rock Band/CD/Makossa/1974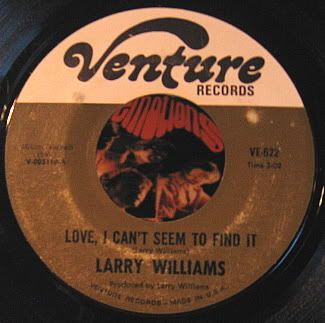 Set Four: sometimes good guys don't wear white
1. Groovy Situation/Mel & Tim/LP/Bamboo/1969
2. What Have I Got To Lose/Jean Wells/LP/Calla/1968
3. Do Right Man/Little Beaver/CD/Saadia/196?
BED: Never Gonna Give You Up/Soulful Strings/LP/Cadet/1970
Guest Stars: Steve Cochran, Peter Lorre, Alan Ladd, Henry Gibson,
Sterling Hayden, Doris Dowling, Elliot Gould, Rodney Moss, Jerry Jones, Steve Coit