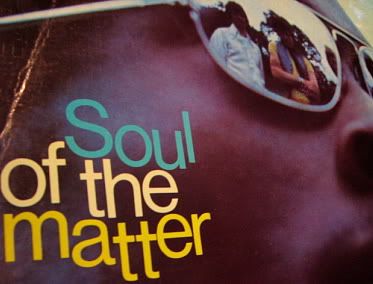 An Honest Guy
Here I am, late as always, later than usual. Hey - there's a thick web of legal hoops I have to jump through to clear all these photos for publication...yeah, that's it...
Anyway, The Boss is back and I'm driving from the back seat again. Just keep your eyes on the road and I'll take the wheel, spinning a full complement of the hardest of funk, the sweetest of soul and the soul-searching sounds of some acoustic poets. All this hype too confusing? Preview the playlist further down to see if it's your bag - or if you've got the nerve, just click on Bobby Byrd's brutally honest reaction to the phenomenon of hot pants below, and take to the road. Trust in me, I can handle this baby at any speed.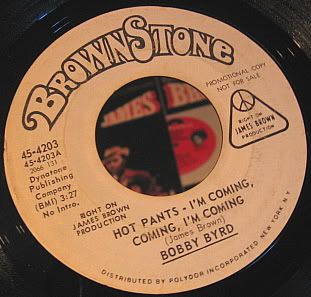 Click on Image Above to Listen to the Show!



Playlist for Lost & Found, 05/01/06

title/artist/format/label/year

Set One: Can't You Hear Me Knockin'


Intro: Psychotic Reaction/Senor Soul/LP/Double Shot/1968
1. It's a Cryin' Shame/Five Americans/LP/HBR/1966
2. Bring 'Em On In/Them/LP/Decca(UK)/1966
3. Chicano Power/Thee Midniters/LP/ChattaHoochie-Rhino/1969-198?
4. South Side of Soul Street/Johnny Adams/45/SSS/1969
5. Don't Look Too Hard/Clarence Reid/LP/Atco/1968
6. The Rub/George & Gwen MCCrae/LP/Cat/1975
7. The Boss/James Brown/LP/Polydor/1973
8. Hot Pants-I'm Coming I'm Coming Im Coming/Bobby Byrd/45/Brownstone/1971
9. You Can Run But You Can't Hide/Ruby Andrews/LP/Zodiac/1970
10.Nobody's Fault/Mud/LP/UNI/1971
11.Who Could Love You/John Fred & His Playboy Band/LP/Paula/1969
12.Free from the City/Poppy Family/LP/London/1969
13.Lost Voyage/Herbie & the Royalists/LP/Saga/1968
14.Snakeskin Garter/Manfred Mann Chapter Three/LP/Polydor/1969
BED: Peruvian Flake/Harvey Mandel/LP/Janus/1972

Set Two: What Have I Done

1. Sometimes I Don't Like Myself/Steve Colt/LP/Vanguard/1968
2. No Regrets/Lee Hazlewood/LP/LHI/1969
3. Cadillac Bleu/Bunky & Jake/LP/Mercury/1969
4. Nervous Breakdown/Bobby Fuller Four/LP/?-Rhino/1963-1987
5. Blowin' Through Yokohana Pt.2/Medallions/LP/?-Atomic Passion/???
6. Hey Joe/Tim Rose/LP/Columbia/1966
BED: Whistle Stop/Joao Donato-Deodato/LP/Muse/1973


Set Three: Migalowe, I Hate You
1. What Now(live)/Gene Chandler/LP/Constellation/1965
2. Yo Te Quero/Don Julian & the Larks/LP/Money/1970
3. Mi Amor Mi Amigo/Chayita/LP/Eco(MX)/1969
4. I Don't Need No Doctor/Les Hou Lops/LP/Apex/1968
5. Will You Still Love Me Tomorrow/Little Eva/LP/Dimension/1962
6. Playgirl's Love/Five Stairsteps/LP/Windy C/1967
7. So Sad/Dillard & Clark/LP/A&M/1969
8. The Feeling Is Right/Doris Duke/LP/Canyon/1971
BED: Julia/Ramsey Lewis/LP/Cadet/1968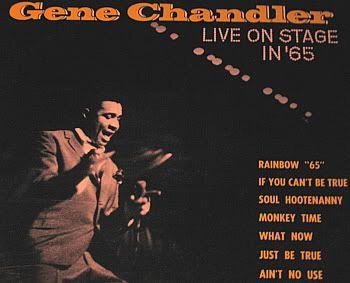 Set Four: Take a Deep Breath
1. Midway Down/Creation/LP/Polydor-Edsel/1968-1997
2. Drive-In Saturday/David Bowie/LP/RCA/1973
BED: Big John Grady/Johnny Lytle Trio/LP/Riverside/1963
Guest Stars: Steve Cochran, Paul Valentine, Barbara Stanwyck, John Dall, Peggy Cummings, Peter Lorre, James Stewart