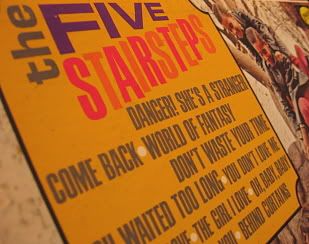 Dangerous To Know
You don't have to tear the place up - there's no Velma here! How's about you sit down, relax, and I'll play the jukebox? Habit makes me start off with a lot of crash and thunder, but we'll find something to soothe the savage within, as well.
Click on the pile o' vinyl below to get underway - and feel your way underneath for some vital information...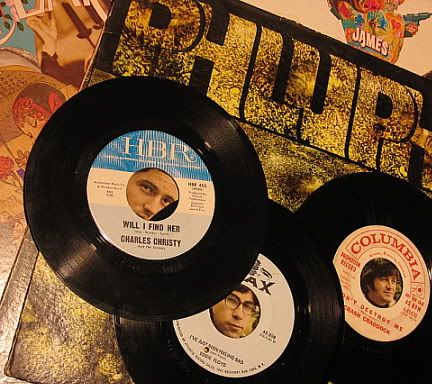 Click on Image Above to Listen to the Show!
Playlist for Lost & Found, 02/06/06
title/artist/format/label/year
Set One: on account of I'm large
Intro: Iceberg's Thang/Dennis Coffey/CD/Maverick/1969
1. Girl In Black/Troggs/LP/Fontana/1968
2. High On a Horse/Grand Funk Railroad/LP/Capitol/1969
3. Your Love Been So Good To Me/Ruth Copeland/LP/Invictus/1969
4. Bruised/Sound Foundation/LP/Smobro/1969
5. Do the Sissy/Albert Collins/LP/Imperial/1969
6. Groovin' Time/Otis Redding/LP/Atco/1967-1969
7. The Entertainer/Jimmy James & the Vagabonds/LP/Atco/1967
8. (This Is) A Groovy Generation/Billy Kennedy/LP/Groovesville-Charly/1966-198?
9. Give Me Your Love/Barbara Mason/LP/Buddah/1972
10.Never My Love/Four Tops/LP/Motown/1968
11.Windy/Billy Paul/LP/Neptune/1969
12.Black is Black/Julie Budd/LP/MGM/1968
13.She's Got Another Pair of Shoes/Alan Price/LP/Parrot/1967
14.Danger! She's a Stranger/Five Stairsteps/LP/Windy C/1967
15.Puppet On a String/Gino Washington/LP/Correct-tone - Norton/1962-2001
16.I've Just Been Feeling Bad/Eddie Floyd/45/Stax/1967
BED: I'll Be White Black/Junior Mance/LP/Atlantic/1970
Set Two: electric games of mind control
1. It's Nothing to Me/Harry Johnston/LP/Crypt/196?-199?
2. 100 Years from Now/Byrds/LP/Sundazed/1968-2000
3. One Hundred Days/Autosalvage/LP/Rca/1968
4. Silver Raven/Gene Clark/LP/Asylum/1974
5. Girl from the East/Leaves/LP/Mira/1966
6. Run Run Run/Velvet Underground/CD/Verve/1967
BED: The Look of Love/Herb Alpert-Burt Bachrach/LP/Colgems/1967
Set Three: a frog on a stone
1. Death of an Angel/Donald Woods/45/Fortune/1958
2. Oh! So Soon/Sapphires/45/Swan/1963
3. Don't Destroy Me/Billy "Crash" Craddock/45/Columbia/1959
4. Dearest/Mickey & Sylvia/45/Vik/1957
BED: Mas que Nada/Claus Ogerman & Orch/LP/RCA/1967
Set Four: soda and 2 straws
1. Will I Find Her/Charles Christy & the Crystals/45/HBR/1965
2. Don't Blame Me/Five Americans/LP/HBR/1966
3. Let Me Be/Lost & Found/LP/International Artists/1967
4. Girl In Tears/Phluph/LP/Verve/1967
5. Seeking Mr. Spouth/Heads/LP/Liberty/1968
6. Dust/Dorothy Ashby/LP/Cadet/1970
BED: Psychedelic PI/Lonnie Smith/LP/Blue Note/1970
Guest Stars: Mike Mazurki, Clair Trevor, Dick Powell, Shelly Winters, Ernie Adams, Anne Shirley