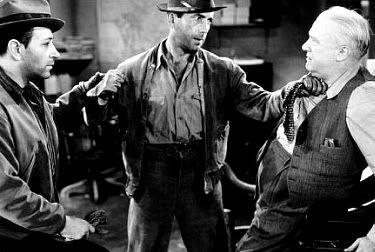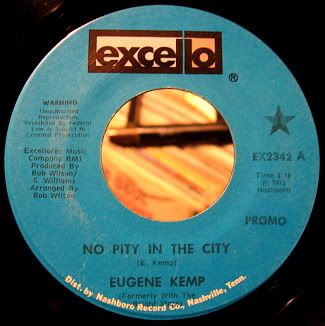 Fruits of Our Labor
Most of us work very hard all week. When it's over, we
deserve a reward - whether it's a classy chassis, a good steak, or two hours of the best music the 60's & 70's had to offer. I do what I can, and I'm just another working man. Keep your eyes on the road and hands on the wheel, and I'll get you through the night with sounds to keep you awake and alert. Just CLICK on the boys of Humble Pie below to hit the road - and if you need a map of the stops along the way, look no further than just below those long-hairs...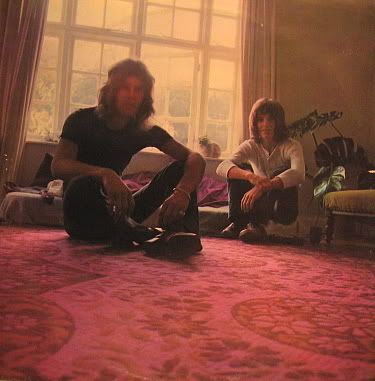 Click on Image Above to Listen to the Show!



Playlist for Lost & Found, 09/04/06

title/artist/format/label/year

Set One: angst you can dance to

Intro: Comin' Home Baby/Peter Duchin/LP/Bell/1969
1. The Best Thing You Ever Had/Candi Staton/LP/Fame/1972
2. Payback/Johnny Goode/CD/Solid Hit/1967
3. No Pity in the City/Eugene Kemp/45/Excello/1975
4. Funky Ghetto/Ted & Little Johnny Taylor/45/Ronn/1974
5. Right On/Syl Johnson/LP/Twinight/1969
6. Psychotic Reaction/Brenton Wood/LP/Double Shot/1966
7. Like a Rolling Stone/Phil Flowers & the Flower Shop/CD/A&M/1969
8. Blue Revelations/Lewis & Clarke Expedition/45/Colgems/1967
9. Hear My Song/Shocking Blue/45/Colossus/1970
10.Pam/Crazy Elephant/LP/Bell/1969
11.The Girl Who Faded Away/Hangmen/45/Monument/1965
12.Heart of Stone/Rolling Stones/CD/London/1964
13.Only You Can Say/Humble Pie/LP/Immediate/1969
14.Goodbye Victoria/Chubby Checker/LP/MFP(Belgium)/1969-1976
BED: Evil Ways/Cal Tjader/LP/Fantasy/1969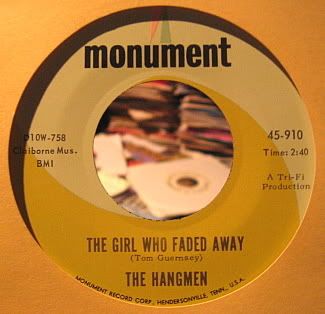 Set Two: sundays with the shades drawn
1. She Is My Woman/George Kayatta/LP/RCA/1972
2. Jealous Guy/Eleventh Floor/45/Beverly Hills/197?
3. Summer Love/Almond Marzipan/CD/Trend(UK)/1970
4. Sally In the Alley/Nightcrawlers/CD/Kapp?(unreleased)-Big Beat/1966(?)-2000
5. Stone Fox Chase/Area Code 615/LP/Polydor/1969
6. You're Doing Me No Good/Gale Garnett/LP/RCA/1967
7. She Thinks I Still Care/Merle Haggard with the Strangers/LP/Capitol/1969
BED: This Guy's In Love With You/Barney Kessel/LP/Contemporary/1969
Set Three: a bird way up in a tree
1. Mud In Your Eye/Les Fleur De Lys/CD/Polydor/1966
2. Shelly Tell Me Why/River Deep/CD/
3. I Want to Be Free/Honeycombs/LP/Interphon/1964
4. Rainmaker/Cryan' Shames/45/Columbia/196 (req)
5. She Was Perfection/Murray Head/CD/Immediate/1967
BED: Love & Happiness/Monty Alexander/CD/MP#/1973
Set Four: tales of the midnight hour
1. While the City Sleeps/Irma Thomas/LP/Minit/1965
2. That's Why I'm Always Crying/Junior Parker/45/Duke/1963
3. Mellow Moonlight/Leon Haywood/LP/Fat Fish/1967
4. Get Down, Johnny/Johnny Powers/CD/???/196?
BED: The Fife Piper/Dynatones/45/HBR/1968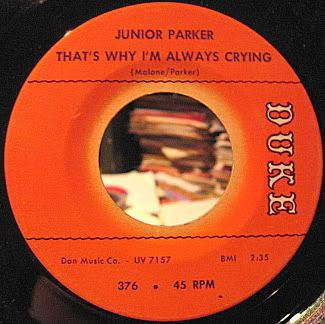 Guest Stars: George Raft, Ann Sheridan, Rudy Ray Moore, Pat Flaherty, Marie Blake,Charles Halton, Humphrey Bogart