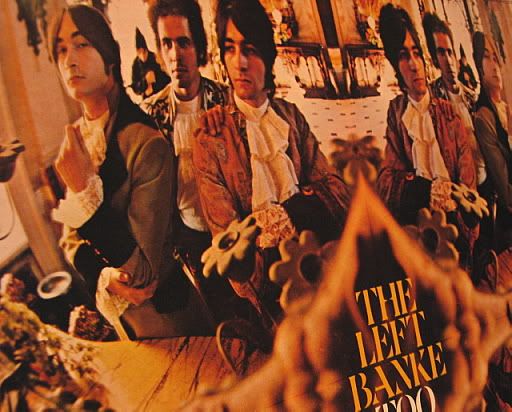 Playing With a Marked Deck
After almost a month off, I finally get to select some new sounds for you - and the choices seemed endless. Enjoy the opening bonanza of fuzzy rock, funky soul and some of the finest grooves to spring from the Everglades. George Raft dropped by the studio, but we couldn't get him to say much - maybe next time...
Click on the Little Beaver 45 below to listen, and drive even further south to get all the discographical details - and we'll see you in 2!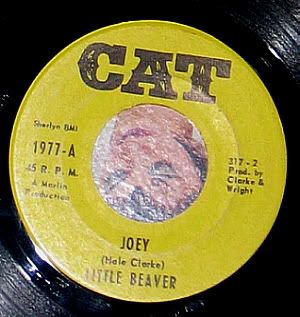 Click on Image Above to Listen to the Show!
Playlist for Lost & Found, 03/06/06
title/artist/format/label/year
Set One: a kiss before dying
Intro: Police Woman/Henry Mancini/LP/RCA/1975
1. Double Yellow Line/Music Machine/45/Original Sound/1966
2. Numbers/Terry Knight & the Pack/LP/Lucky Eleven/1966
3. I'm Chief Kamanawanlea-You Showed Me/Turtles/LP/White Whale/1969
4. Lonely Eyes/Candymen/LP/ABC/1967
5. The Lady Barber/Lynn Castle/45/LHI/1969
6. Hubble Bubble/Manfred Mann/LP/Ascot/1965
7. Tu es Impossible/Les Sultans/LP/DSP(Quebec)/1967
8. Chicco/Barrabas/LP/RCA/1972
9. Kissing My Love/Cold Blood/LP/Reprise/1973
10.Dream Some Paradise/New Birth-"Gordon's War" OST/LP/Buddah/1973
11.Fool's Paradise/Sylvers/LP/Pride/1972
12.Joey/Little Beaver/45/CAT/1971
13.All Your Kissin' Sure Don't Make True Lovin'/Betty Wright/LP/Alston/1972
14.Put Pride Aside/Latimore/LP/Glades/1974
15.My Friend Today/Left Banke/LP/Smash/1968
BED: Inner City Blues/Grover Washington, Jr/LP/Kudu/1972
Set Two: am I still sleeping?
1. A Song for Susan/Chris Smithers/LP/Poppy/1970
2. Images of April/Pearls Before Swine/LP/ESP/1969
3. Dark World/Ill Wind/LP/Abc/1969
4. Blues and Trouble/Muddy Waters/LP/Cadet Concept/1969
5. Time of the Preacher Theme/Willie Nelson/LP/Columbia/1975
6. I'd Fight the World/Wanda Jackson/LP/Capitol/1968
BED: I Shot the Sheriff/Redd Holt Unlimited/LP/Paula/1975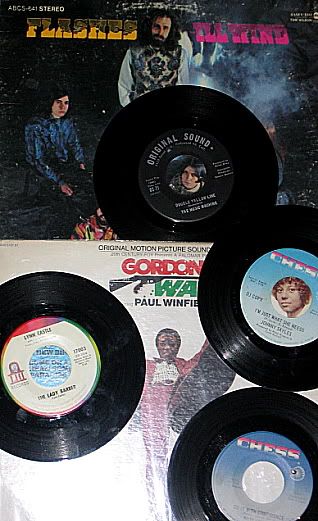 Set Three: on a trip to the stars
1. Something's Going On/John Fred & His Playboys/LP/Paula/1967
2. Mary Mary/Butterfield Blues Band/LP/Elektra/1966
3. Little Nightingale/Mindbenders/LP/Fontana/1966
4. Warlord of the Royal Crocodiles/Tyrannosaurus Rex/LP/Blue Thumb/1972
5. Raining/Paper Garden/LP/Musicor/1969
6. I'm Dreaming/Wildweeds/45/Cadet Concept/1968
7. Friedman Hill/Curtis Knight/LP/Paramount/1971
BED: Son of a Preacherman/Buddy Merrill/LP/Accent/1970
Set Four: mysteries of chess flossin'
1. Do It With Confidence/Mitty Collier/45/Chess/1967
2. I'm Just What She Needs/Johnny Sayles/45/Chess/1967
BED: Harlem Buck Dance Strut/Les McCann/LP/Atlantic/1973
Guest Stars: George Raft, Sue Lyon, Edward Arnold, Tammany Young